Shop featured in James Joyce's Ulysses may have to close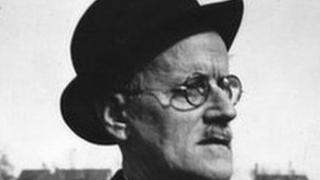 There's gloom alongside the Bloomsday celebrations taking place in Dublin on Monday because one of Ireland's most famous literary landmarks may have to close.
Bloomsday celebrates a day in the life of the fictional Leopold Bloom, the main character in James Joyce's famous novel Ulysses.
Fans of the author are worried that Sweny's Pharmacy, which is featured in the novel, will shut because it cannot afford to pay its rates.
The bill has risen from 1,800 euros last year to 4,400 euros this year.
Sweny's opened in Lincoln Place, close to Trinity College and Merrion Square, in 1847.
It ceased to operate as a pharmacy in 2009, but since then a group of 20 volunteers have maintained it in its original condition as a museum and memorial to James Joyce.
Wendy Conroy, one of the volunteers, said: "After paying the rent and other bills last year we were left with 1,000 so we don't have nearly four and a half thousand euros and we're not likely to have it."
The rates are set by the valuation office at the Department of Finance.
Sweny's has appealed against its set rate, but Dublin City Council said it is obliged to charge the commercial rates set by the valuers until the appeal is determined - even though Sweny's is now a registered charity.
Sweny's is famous largely as the place where Leopold Bloom in Ulysses buys lemon-scented soap for his wife.
The shop's income is from donations, sales of second-hand books and the famous soap.
It has become a very popular venue with daily readings of Joyce's works by the volunteers.
Visitors are invited to read as well.
A first time visitor from Banbridge, David Gamble, said: "I'm glad I came when there was a reading on. It's a marvellous place and I sincerely hope it doesn't close down."
The director of the Bloomsday Festival, Mark Traynor, said the work of the volunteers was of huge benefit to Dublin.
"It would be a very short-sighted policy decision were they to enforce that rates bill," he said.
Fianna Fail Dublin councillor Jim O'Callaghan said: "I'm really upset that Sweny's is now threatened with closure because of a rates bill. It's very unfair when you think that TDs (Irish members of parliament) don't have to pay rates on their offices."
He said the government should review the valuation act to allow charity shops to be exempt from rates.
Maria Kreul from Vienna said: "It's really important that Sweny's remains open. It's a way to help people to enjoy literature and to keep literature alive in society."
Brian Meath from London, Ontario, said: "This place is so important because it's like you're walking through the book itself. When you come in here you are literally walking into one of the scenes where Bloom himself was."
Sweny's has opened an online petition for supporters.