Relatives of those killed and injured in Troubles attend Dublin event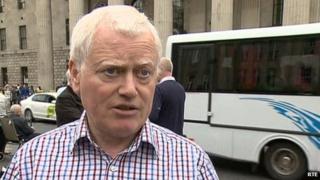 Over 100 people whose relatives were killed on both sides of the border during the Troubles have attended an event in Dublin.
They gathered on O'Connell Street on Saturday.
Campaigners want the Irish and British governments to set in place an acceptable means of dealing with the past.
The day of action coincided with the anniversary of the 2010 report of the Bloody Sunday Inquiry.
Tony Brown, whose nephew was killed by a plastic bullet in 1981, said many were still seeking answers about what happened to their loved ones.
"He was hit at point blank range in Great James Street in Derry by a member of the RUC," he said.
"There were witnesses, the RUC did not interview them properly. We hope it will raise public awareness of the sheer numbers of deaths that occurred in the silence, both north and south."
The initiative entitled Day of Action, 'In Their Footsteps' was organised by a coalition of groups and campaigns across Ireland.
Relatives who had lost loved ones engaged with members of the public to tell their stories.
A campaign spokesperson said: "This initial Day of Action belongs to all of us. While recognising that the families of victims have many different needs and demands, we recognise that all seek truth, justice and acknowledgment."