Police say object found by six-year-old girl in west Belfast was elaborate hoax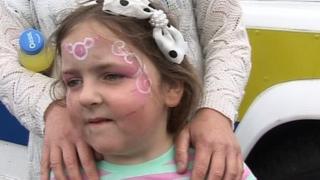 Police have said a suspicious object found in the garden of a house in west Belfast by a six-year-old girl was an elaborate hoax.
More than a dozen homes were evacuated after it was found in Westrock Park, off the Whiterock Road, on Saturday morning.
Army bomb experts were called to examine the object.
Homeowner Angela Wheelan said she feared for her daughter's life if the device had been viable.
"She lifted the device up by the wire and threw it out," she said.
"I told her to throw it out because I didn't know what it was and then I phoned the police.
"She could have got blown up."
Mrs Wheelan said she did not know why her home had been targeted.
Residents have now been allowed to return to their homes.