Basil McCrea allegations: Confusion over report into NI21 'sex claims'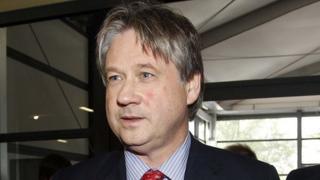 There is confusion over the future of an investigation into alleged inappropriate sexual activity by the NI21 party leader Basil McCrea.
The mediation organisation Carecall have been preparing a report into the allegations made by a number of former NI21 employees against Mr McCrea.
He has denied the allegations.
One of the former employees, Ashleigh Murray, has told the BBC she has been informed the party has decided no further action will be taken.
Ms Murray said she now intends to take her concerns directly to the Assembly Standards Commissioner Douglas Bain.
She said other NI21 staff members are also asking for Carecall to return their statements, with the intention of forwarding them to the standards commissioner.
However, new NI21 chair Jayne Howson said she has not seen the Carecall report and has no part in it.
She said only the NI21 deputy leader, John McCallister, who requested the investigation, can act on it.
In a statement, the NI21 executive they would "like to make it clear that we have not received any report from Carecall".
The allegations emerged during the European and local government election campaigns in May.
First, there was a clash over a last-minute decision to change NI21's designation from "unionist" to "other" two days before polling day.
Then, allegations of inappropriate sexual activity were made against Mr McCrea, which he strongly denied.
On polling day, fellow NI21 assembly member John McCallister called for Mr McCrea to step aside while allegations of sexual impropriety on the part of Mr McCrea against Ms Ashleigh Murray, 23, were investigated.
Mr McCallister claimed the party re-designation issue was an attempt to derail the external investigation that he had instigated.
Mr McCrea and Mr McCallister launched NI21 together in June 2013.
They left the Ulster Unionist Party to set up a new "confident, generous and progressive pro-UK party to step forward and build support for a modern Northern Ireland in the 21st century."