'Bart Simpson' found among items blocking west Belfast sewer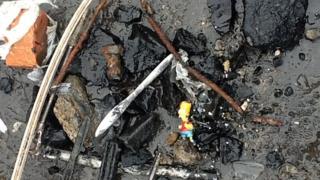 Water officials have admitted their surprise after making a cartoonish discovery in a blocked west Belfast sewer.
Giving new meaning to the term 'toilet humour', a Bart Simpson figure was one of many items, including a brick and a pair of scissors, pulled from the drain in the New Barnsley area.
NI Water have asked householders to be wary of what is flushed down toilets.
The authority said clearing sewers costs £2.5m every year.
Others items found in the blocked drain were a curtain track, stones, an electrical conduit, a knife, pen, baby wipes and a bolt.
While some of these items are more unusual, baby wipes are one of the 'dirty dozen' items that NI Water said regularly cause sewer blockages.
Gary Little, part of the team set up to combat blocked sewers, said: "The dirty dozen cause enough damage to the sewers on their own without the added risk of a brick, scissors and Bart Simpson.
"These are the 12 most common items the public flush and dump down our sewers.
"The ring leader is the innocent looking baby wipe, closely followed by the sanitary towel.
"These ordinary household items head a gang of everyday products that cause mayhem with the sewer system when flushed down the toilet or dumped in the sewers.
"We are literally fighting a daily battle to clear blocked sewers at a cost of over £2.5m to NI Water every year."