River Bann: Man 'critical' after being rescued in Portadown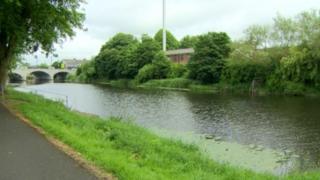 A man is in a critical condition after he was found floating in the River Bann in Portadown.
The man was spotted in the river, in the Meadow Lane area, at about 22:45 BST on Thursday night and was rescued by members of the public.
An investigation has been launched into how the man ended up in the water. It has been reported that he may have been assaulted at around 20:00 BST.
A 23-year-old has been arrested in connection with the assault.
PSNI Det Insp Nicola Marshall said: "I would like to take this opportunity to thank the members of the public involved in the rescue of this man.
"Without their bravery and quick thinking it is highly likely that he would have died."
Police have appealed for witnesses.