Forensic Science Northern Ireland: Senior scientist leaves job after inquiry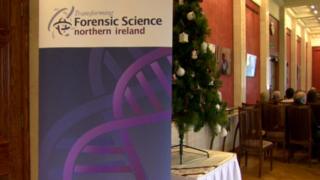 A senior scientist at a government agency is to leave his post after an investigation by Northern Ireland's Department of Justice (DoJ).
It found that it was inappropriate for him to be co-owner of a laboratory business while employed at Forensic Science Northern Ireland (FSNI).
The investigation said there was a potential conflict of interest and the scientist has chosen to retire early.
The DoJ began an investigation after a complaint from a commercial company.
Whistleblower
The report will be sent to the Audit Office, but Justice Minister David Ford said two contracts awarded by FSNI had followed proper selection procedures.
No records could be found that the scientist had, as he claimed, told FSNI about his outside business interest.
It was years before it was first disclosed on its conflict of interest register in 2012, despite a whistleblower having previously raised concerns with FSNI.
The chairman of the Northern Ireland Assembly's Justice Committee, DUP MLA Paul Givan said: "I think Forensic Science have questions to answer about how the management dealt with this particular conflict when it was brought to their attention.
"Why was it not properly registered in the first instance?"
The report is believed to have said that the scientist had acted against guidelines, given that he was a 50% shareholder in the business.
'Never benefited'
His involvement should have been disclosed at the earliest opportunity but only become apparent over time.
A tightening of guidelines may follow the investigation.
Ulster Unionist MLA Danny Kinahan said: "We have got to have a robust set of rules and a system that actually enforces them."
According to the DoJ, the scientist's company "has never benefited from any work" from it, or FSNI.
FSNI is an agency within the DoJ that provides "impartial forensic science to support justice".
It carries out services on behalf of the defence and prosecution in criminal cases.
FSNI's customers include the Police Service of Northern Ireland (PSNI), the Police Ombudsman for Northern Ireland, and the State Pathologist.