CCEA deny claims exam results will be delayed by industrial action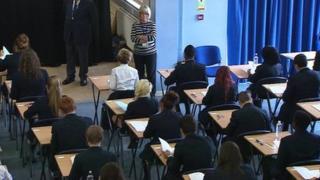 The body in charge of examinations in Northern Ireland has denied that planned industrial action by some staff will delay pupils receiving their results.
Senior staff at the CCEA are refusing to work additional hours at weekends and evenings.
The Nipsa union said it was because of changes to the way they get time off in lieu.
A Nipsa official said the action could delay exam results.
The union has accused CCEA of trying to "blackmail" staff over TOIL (time off in lieu) arrangements.
But CCEA said the action would have "no adverse impact" on examinations.
The exam body's chief executive Richard Hanna said: "Examinations are the culmination of years of hard work by pupils and their teachers.
"CCEA's priority at this time is to ensure their achievement is recognised and rewarded.
"It is disappointing that a decision has been taken to take industrial action at this important and sensitive time.
"I would like to reassure pupils, parents and teachers that marking will continue as normal and grades will be issued as planned."
'No alternative'
Nipsa said the industrial action involved two groups of staff - assessors who supervise test markers and IT staff who offer support.
The union's official for CCEA, Kevin Kelly, said: "Members are angry that management are failing to address the situation and are attempting to blackmail members into reducing the TOIL arrangements which have been in place in CCEA for many years.
"Our members only turned to the issue of industrial action and voted to be balloted, as there was no alternative open to them."
Alison Millar, deputy general secretary of the union, said the issue had "been the source of disagreement for up to three years".
She said: "It is regrettable that this issue may impact on thousands of students - but this issue is not of Nipsa's making - and could easily be resolved.
"NIPSA met with the interim chief executive, Richard Hanna, together with other members of management on Tuesday of this week in an attempt to break the deadlock but unfortunately that meeting did not resolve the issue."
'Contingency plans'
She added: "Following the meeting, NIPSA called on the Labour Relations Agency to intervene and seek to resolve this dispute.
"However, despite this intervention, to date no response has been received."
In a statement, CCEA said "contingency plans" were in place to ensure markers received the support they needed.
The exam body added: "The matter in question was raised with us at the end of March. Negotiations to resolve the concerns of these staff have been ongoing and good progress has been made.
"We are committed to continuing to work hard, in a consultative and inclusive manner, to resolve outstanding issues."
CCEA also said they understood around 40 staff were taking part in the industrial action.