Open Farm Weekend: Farms open gates to the public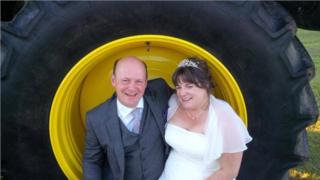 If you have never set foot on a farm, wonder why you are stuck behind a tractor at certain times of the day or contemplate that lovely aroma that sometimes wafts through the countryside, then now is the time to brush up on your farming knowledge.
On Saturday and Sunday, 21 farms throughout Northern Ireland will throw open their gates, fields and farmyards to the public as part of the an open farm weekend.
The farmers taking part will be providing a unique insight into the farm-to-plate process.
One of those, William Haire who owns Tynedale Farm in Ligoniel, Belfast, even postponed his honeymoon to pull on his wellies for the Open Farm experience.
"I've been farming all my life but last year when we took part in the initiative for the first time, I really didn't know what to expect," he said.
"But we really got so much out of it. Not just in making people more aware of the availability of high quality, locally reared goat meat, but also talking to people who had never set foot on a farm and demonstrating the amount of work and care that goes into farming."
However, with the honeymoon on hold, questions remain over whether the new Mrs Haire, Sarah, is quite so enthusiastic.
Ice cream start-up
In County Londonderry, Ruth Pollock runs Braemar Farm in Castlerock - a dairy farm - but decided to branch out into another area.
"My husband Ian and I went on a study tour of England, visiting farms that produced their own butter, cheese and ice cream," she said.
"Ian always had a notion of producing really good quality ice cream, so we got the funding to start our business and we haven't looked back."
She added: "Lots of people from urban areas have houses around the north coast and really don't understand some of the basics of farming - why tractors are out on the roads, why slurry has to be spread and so on.
"Inviting people onto our farm at the weekend gives us the opportunity to talk to them and show all of the work that goes into producing something that many people take for granted."
Tom Gilbert, from Straid, County Antrim, has gone organic and this weekend is a chance for him to introduce the public to a different kind of farming.
"Like all 21 farms taking part, we take pride in what we do and relish the opportunity to grow the public's trust in the output of the farming sector," he said.
'Field to fork story'
"But as a certified organic farm, we have a slightly different story to tell than many of the other farms.
"We'll be working over the weekend to explain what is different about our approach to farming and, of course, showing off our produce in the best possible way - by allowing people to taste it.
"With a tea room and farm shop on site we're really looking forward to the opportunity to give people the full 'field to fork' story of our food."
So, if you're already fed up with the World Cup and want a weekend that all the family can enjoy, then hoof it to your nearest open farm.
Just remember - we're not Brazil, we're Northern Ireland!