HBO executive less than glowing about Belfast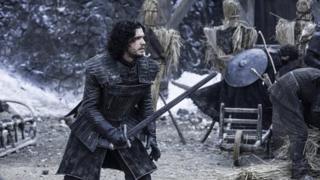 HBO television's hugely successful Game of Thrones is a major marketing tool for Northern Ireland tourism.
But one of the company's most senior executives has not been cheerleading.
"Belfast is not the most cosmopolitan of cities to spend half the year," HBO's president of programming Michael Lombardo is reported to have told a US magazine.
Four series have already been part-filmed in Northern Ireland, with a fifth to follow.
HBO also uses studios in the city's Titanic Quarter.
In the interview published on the website of New York Magazine (14m site visits per month), he talks of the experiences of two of the show's executives.
"I don't think they contemplated, when we found our location in Belfast, what that meant for them personally."
The interviewer asks: "Are they having a hard time?"
Mr Lombardo replies: "I don't think they have a hard time, but the good news is work keeps them busy, let's just say that."
Last month, the Northern Ireland Tourist Board gave HBO its "global ambassador" award.
The Los Angeles-based company has received grants of more than £10m to film in Northern Ireland.
Recently HBO allowed the Tourist Board to use its branding on adverts to promote the region as a visitor destination for its millions of global followers.
The Northern Ireland Executive believes Game of Thrones has been worth £90m to the local economy, including hotels and locally-hired staff.