Newtownabbey loyalist rioter Robert Stewart branded 'eejit'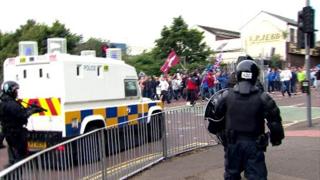 A Newtownabbey man caught rioting at two separate locations in Belfast last summer has been jailed and branded a "complete eejit" by a judge.
Robert John Stewart, 32, from Glencoole House took part in riots at Twaddell Avenue/Woodvale Park on 12 July and in the Peter's Hill area on 9 August.
Stewart was given a sentence of one year and 10 months.
He will spend 11 months in custody, with the remainder on supervised licence.
After viewing CCTV footage of last July's riot - during which a bare-chested Stewart was seen to climb onto a police Land Rover, kick police shields and record officers on his mobile phone - Judge Corinne Philpott told Belfast Crown Court he "looks like a complete eejit".
A Crown prosecutor said Stewart was part of a group of loyalists who confronted police and was captured on police footage for around 37 minutes.
During that time, the father-of-one threw a number of objects at police lines including a traffic cone, a lump of concrete and a bottle.
His image was released by the PSNI and a member of the public identified him.
'Extremely drunk'
When he was arrested and interviewed, Stewart said he was extremely drunk that day.
The prosecutor said that when Stewart was shown the footage, he smirked and refused to confirm whether or not it was him.
When asked if he was remorseful, Stewart replied: "Do the police feel remorseful for beating people with batons?"
Less than one month later, Stewart was again captured on police CCTV at a loyalist riot.
'Practising for javelin'
Serious street disorder erupted in the centre of Belfast on the evening of August 9 last year after loyalists mounted a protest about an anti-interment parade which was due to make its way from Alliance Avenue to west Belfast via the city centre.
Mr Murphy told the court Stewart was seen throwing three missiles at police lines in the Peter's Hill area, and when he was subsequently interviewed, he denied throwing missiles but said he was just making a gesture of throwing.
When questioned about this, Stewart said he was practising for the javelin.
Stewart's barrister said his client involved himself in a "course of conduct" last summer but pointed out that on both occasions, his client's activity was "short-lived."
He said Stewart has been the victim of several beatings at the hands of loyalist paramilitaries - including being shot and having both arms broken - and said his involvement in both riots could have been to "ingratiate himself" with such elements.