Putting up flags in south Belfast 'will be breach of peace'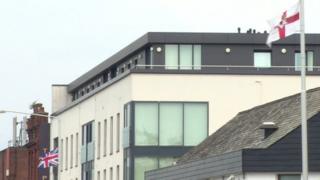 The Police Service of Northern Ireland has said it will treat the erection of loyalist flags in a mixed area of south Belfast as a breach of the peace.
It follows discussions with Sinn Féin assembly member Alex Maskey.
Mr Maskey said officers who watched flags being put up in the Ballynafeigh area of the Ormeau Road "brought themselves into disrepute."
The police said inquiries showed tensions were "particularly heightened" by the number of flags being put up.
In a statement to BBC NI politics programme The View, a spokesperson said: "As a result, police have directed that any future erection of flags on this part of the Ormeau Road will be treated as a breach of the peace. Community representatives have been spoken to and advised of this."
'Better understanding'
However, they said the removal of flags is not their responsibility and that they will only act in "extreme circumstances", for example where life is at risk.
Dozens of flags were put up on lampposts last month during the recent election campaign.
The area used to have a Protestant majority but the recent census showed how the demographics have changed with almost 57% of people living there now Catholic while 27% are Protestant.
Mr Maskey said: "Police officers did see and did stand by when people were putting flags up and I certainly don't want to see that repeated again because the PSNI themselves have brought themselves into disrepute because of their behaviour around the flags.
"I've discussed it with their senior leadership team in south and east Belfast and I think we've got a better understanding of what needs to happen in the future.
"People who put those flags up in some cases had a lot of drink taken on them.
"They abused local residents who were going and appealing to them not to be putting the flags up in the way in which they were doing, right up as far as Ravenhill roundabout past the church, past the chapel.
"So residents were abused and police officers, for the most part, really did nothing and I don't think that's good enough and I've raised that with them and as I've said I think we've come to a better understanding with them which we will test in due course
"It is in and around the fact that given the residential character of that particular part of Ballynafeigh, for example, the demographic change in that area is quite stark.
"The vast majority of people who live there would have no hesitation of trying to tolerate, if you like, union flags being flown if they're being flown for a shorter period of time in a respectful manner but that clearly has not been the case, so therefore I think most people in that area want to see all flags removed.
Safe
"But the PSNI, in my opinion, will in future have to adopt a position where, if someone is putting a flag up there with no recourse to talking to the local community, that would be seen as a breach of the peace because they actually are very much in danger of causing public disorder."
The police were also criticised by another politician, Alliance's Duncan Morrow, a former head of the Community Relations Council.
He said: "I know personally several people rang them up and asked them what they were doing and they actually were present when flags were being put up and I understand were even talking to some of the people putting the flags up.
"Part of the issue I suppose for us is, if people are safe putting them up are people as safe taking them down or is there some kind of threat which makes this look like the rule of law isn't actually operational around these issues?"
But DUP councillor Christopher Stalford said police have better things to do with their time than remove flags.
He said: "In south Belfast we have experienced a rise in crime over the course of the last year.
"I believe that the Police Service of Northern Ireland has better things to be doing with its time than sending officers shimmying up lampposts to remove flags and if Alex Maskey, who's supposed to represent south Belfast, thinks that that's the best use of police time that his constituents deserve, I suggest he go and re-acquaint himself with what people's actual priorities are."
A PSNI spokesperson added: "The erection and removal of flags and banners falls within the remit of the Joint Protocol in Relation to the Display of Flags in Public Areas.
"This protocol was to be reviewed by the Office of the First Minister and Deputy First Minister and the police service looks forward to the outcome of this review and future clarity on the flags issue.
"A long term resolution to the display of flags and banners in public areas can only be reached by political consensus.
"Until the joint protocol is updated, the Police Service of Northern Ireland will continue to work with communities and respond to any issue where there is a concern for public safety or where it is believed a criminal offence has occurred."