Omagh Catholic grammar schools in bid to end academic selection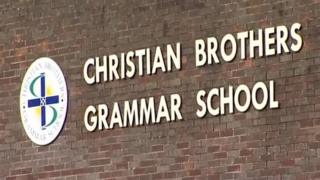 Another two Catholic grammar schools in Northern Ireland have signalled that they want to move away from academic selection.
Omagh Christian Brothers' School and Loreto Grammar in Omagh, County Tyrone, are the latest to decide to either phase out or scrap selection outright.
The education minister has welcomed the schools' proposal to start phasing out academic selection from next year.
The schools said a consultation on the move is due to begin in September.
It is understood the schools' authorities do not expect local opposition.
Growing trend
The phasing out of academic selection is likely to start by reducing the intake of selected pupils to a maximum of 75%.
In a joint statement, the schools said: "The board of governors of Loreto Grammar School, Omagh and the board of governors of the Christian Brothers' Grammar School, Omagh, in consultation with their respective trustees, have agreed to work together to move away in a phased process from academic selection.
"The boards of governors envisage that the implementation of the first phase will begin in September 2015 in accordance with an agreed time frame."
The move is part of a growing trend in the Catholic sector.
In March, Education Minister John O'Dowd approved a plan to change St Michael's grammar in Lurgan, County Armagh, to all-ability and the Loreto College in Coleraine, County Londonderry, no longer uses selection.
St Patrick's grammar school in Armagh city will also drop academic selection.
In west Belfast, there is a proposal to cut the proportion of academically selected pupils to St Mary's grammar school and in Portstewart, County Londonderry, the Dominican College wants to completely phase out the use of entrance tests by 2019.
Unofficial tests
The minister said he welcomed the Omagh schools' announcement they are examining the possibility of moving away from using academic selection.
However no formal change has been made and he has encouraged people to make their views known during the consultation.
The Council for Catholic Maintained Schools (CCMS) has also welcomed the move.
Northern Ireland's Department of Education has attempted to end academic selection and the final official 11-plus test in Northern Ireland was held in 2008.
However, for the past five years, many grammar schools have used unregulated transfer tests to select pupils.
There are two unofficial replacement systems for the 11-plus in operation.
GL Assessment is used mostly for Catholic schools and the AQE (Association of Quality Education) sets a different exam for the other schools.