Dunloy farm death: Robert Christie snr in stable condition in hospital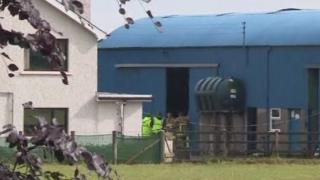 The father of an eight-year-old boy who died in a farm accident in County Antrim last weekend is now in a stable condition in hospital.
Robert Christie snr was critically injured after he and his son Robert were overcome by slurry gases near Dunloy last Saturday.
The pair were helping out on the farm on Ballynaloob Road, near their own farm.
A private funeral for Robert was held on Tuesday.
It was held at Ballyweaney Presbyterian Church near Cloughmills.