Northern Ireland care homes: Admissions policy review recommended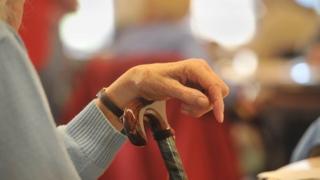 Health Trusts across Northern Ireland are being asked to review their admissions policy for older people going into residential care homes.
It follows a consultation into the future of residential care by Northern Ireland's Health and Social Care Board.
Last year there was a public outcry over plans to close 18 NHS homes.
But the board has now reiterated the health minister's pledge that all current homes will remain open as long as residents want to stay in them.
Highly emotive
The proposed closure of all of Northern Ireland's NHS residential care homes triggered an angry response among residents, families and staff last year.
That resulted in Health Minister Edwin Poots stepping in and ordering the Health and Social Care Board to manage this highly emotive issue.
The board has now finished its consultation and has made a number of recommendations.
It has recommended that the health trusts review their policy on permanent admissions - that could mean each health trust keeping at least one home open or they could still insist that all homes in their area close.
The four proposed criteria outlined in the consultation document are;
quality of care
availability and accessibility of alternatives
care trends
best value for money
The homes will have to justify retaining their facilities against the above standards.
There are currently 18 homes with 240 permanent residents within the review.
The board said it received over 1,200 responses to its public consultation, with the overriding message from residents being that they did not want to move.
Public money
Its acting chief executive, Fionnuala McAndrew, said:"Many of the views expressed by respondents to the consultation were about wider health and social care issues and concerns about how any proposed changes would be managed.
"Whilst not all respondents were in agreement with the type of change which may result, the majority of respondents did not disagree strongly with the proposed criteria.
"I listened to residents describe the care they receive in the homes, and how their lives have been enriched by living in residential care.
"They told me that the quality of care should be the most important criterion and should be given the highest weighting when assessing homes in the future.
"This was also reflected strongly in the feedback from other respondents. Respondents also agreed that the best use of public money should retain the lowest weighting," Ms McAndrew added.
In April, the health minister said the homes would remain open as long as residents wanted to remain there.