Tesco to close Newtownabbey store on Carnmoney Road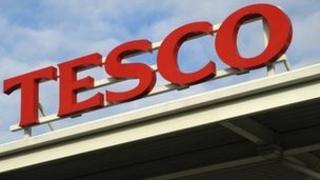 Tesco has confirmed it will close a supermarket in Newtownabbey.
The company said 58 staff work at the store on Carmoney Road, Glengormley, but did not confirm how many would be made redundant.
A Tesco spokesman said the closure was a "difficult decision".
He said: "Our priority is to look after our colleagues and, wherever possible, offer them alternative jobs with Tesco."
Newtownabbey councillor Phillip Brett said he understood that the store would close by October.
The DUP councillor said: "We were contacted by Tesco this morning to say they would be ceasing the operation of their store on the Carnmoney Road by October this year.
"We were hopeful that the store would stay open until then, but now we have been contacted by a number of staff who say they have received redundancy notices that will be effective by 14 August."
Cllr Brett added that the staff were "very disappointed" by the news but that he was "hopeful" the jobs would be saved.