Social housing: Sinn Féin lodges human rights complaint against DSD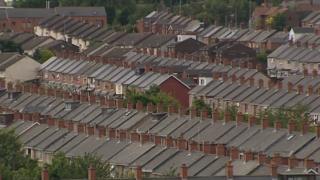 Sinn Féin has asked Northern Ireland's Human Rights Commission to investigate the Department of Social Development over the allocation of social housing.
The party said there was "persistent evidence" of longer waiting times and greater homelessness within Catholic and nationalist communities.
It has lodged a complaint about the DSD's "policies and proposals".
However, in a statement the DSD said it is "not responsible for the operational allocation of social housing".
The department is led by Democratic Unionist Party (DUP) minister Nelson McCausland.
The complaint was submitted to the NIHRC by Sinn Féin MLAs Alex Maskey, Mickey Brady, and Fra McCann.
In a joint statement, the MLAs said: "Housing is a human right and the commission should consider the role of the DSD with particular reference to the International Covenant and Economic and Cultural Rights.
"There is persistent evidence of longer waiting times, higher levels of housing stress and greater homelessness within Catholic and nationalist community.
"This is not just our view. The United Nations Special Rapporteur on housing, Raquel Rolnic, after visiting the North, reported to the United Nations Council about the 'persistent inequalities' in housing provision, particularly in north Belfast."
But the DSD said: "Ultimately the Housing Executive has responsibility for determining housing need, identifying where new housing should be located and allocating housing on the basis of identified need.
"All social housing in Northern Ireland is allocated using the Housing Selection Scheme which has been in place for nearly 14 years since November 2000.
"In 2012, the minister announced a fundamental review of social housing allocations in Northern Ireland, delivering on a commitment set out in his Housing Strategy and Action Plan.
"Independent research was commissioned and three reports, prepared by the Universities of Ulster and Cambridge, have been published, providing the academics' views on the future of social housing allocations.
"The department subsequently published the research to seek the public's views to assist with the formulation of any policy proposals. To date the department has not formulated or published any such proposals," the DSD statement added.
Last month, the Equality Commission for Northern Ireland said it was beginning its own investigation to determine if the DSD had breached equality laws in relation to its housing strategy.
On Wednesday, a spokesman for the equality watchdog said they were still in the early stages of the investigation.