Unemployment: Northern Ireland jobless figure continues to fall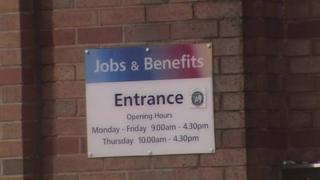 The number of people claiming unemployment benefit in Northern Ireland is continuing to decline.
The total number claiming the benefit fell by 500 in May - the 17th drop in a row.
There are now 55,500 unemployed people in Northern Ireland, which is 6.3% of the workforce.
That is still significantly above the average UK figure of 3.2%.
The second measure of unemployment, the Labour Force Survey, also shows Northern Ireland performing below the UK average.
It shows the quarterly unemployment rate in Northern Ireland of 6.9% compared to the UK average of 6.6%.
Meanwhile other economic indicators released on Wednesday show a mixed picture.
Official figures show that the services sector, which is the largest part of the Northern Ireland economy, fell by a surprise 1.1% in the fist quarter of this year.
However output in the production sector, which is mainly manufacturing, was up by 0.8%.
Self-employment
The Quarterly Employment survey suggests that the service sector is driving the improving labour market.
It added 2,600 jobs between December 2013 and March 2014, while manufacturing added 920 jobs.
In that period construction jobs fell by 250 while public sector jobs fell by 130.
A different measure in the Labour Force Survey suggests that, as in other parts of the UK, self-employment is also playing an important role.
Its figures suggest that virtually all the increase in jobs in Northern Ireland over the last year can be accounted for by an rise in self-employment.
Commenting on the figures, Enterprise, Trade and Investment Minister Arlene Foster said: "The figures published today provide positive signs across a number of key labour market indicators.
"Both the unemployment rate and the number of unemployment benefit claimants have decreased over the quarter and the year.
"In addition, the number of employee jobs continues to increase, representing the eighth consecutive quarterly increase in this measure.
"The rate of unemployment in Northern Ireland (6.9%) compares favourably to the rates in the European Union (10.5%) and the Republic of Ireland (11.8%)."