DP Energy unveils north coast tidal energy plans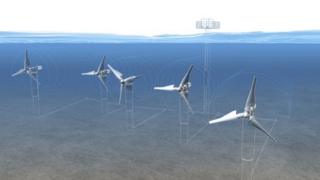 Proposals to build a huge tidal energy project on the sea bed off the north coast of Northern Ireland have been laid out by a renewable energy firm.
Cork-based DP Energy hopes to install a 100 megawatt (MW) array of turbines on the sea bed off Fair Head.
The company is beginning a consultation process with communities in Ballycastle and Rathlin Island before it submits its planning application.
The firm said the £400m project could provide energy for up to 70,000 homes.
The Fair Head project is the second of two tidal schemes to have secured leases from the Crown Estate for areas of the sea bed where currents are strong and offer potential for power generation.
Blair Marnie, Fair Head Tidal project manager, said the project would be developed in two stages.
"The first stage is to install a small tidal farm of between five and 10 turbines. The proposed technology is a further development of that used in Strangford Lough," he said.
"The second stage would be more substantial completing the scheme's 100MW output, enough to heat and light 70,000 homes and small businesses."
The firm said it was still researching the best possible under water tidal technologies before deciding on which type of turbines to be installed.
"We will show people images of the proposed technologies and maps of the sea bed where these will be installed and where cabling is likely to come ashore," Mr Marnie added.