Plan envisages 20,000 new IT jobs in Northern Ireland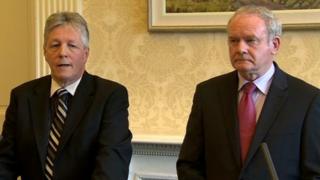 A new Digital Action Plan which, it is claimed, could create 20,000 jobs over the next five years, has been launched.
The plan has the support of the first and deputy first ministers and a number of Northern Ireland Executive departments.
The aim is to encourage businesses to set up in Northern Ireland.
The group behind the plan is Momentum, which is the representative body for the Northern Ireland digital sector.
It proposes teaching programming, or "coding" to children from the age of eight.
Welcoming the report, Northern Ireland First Minister Peter Robinson said: "The digital sector is an area with immense potential for inward investment and economic expansion in Northern Ireland.
"Momentum's aim is to create 20,000 jobs in the local IT sector over the next five years through partnership working is something the Northern Ireland Executive supports."
Deputy First Minister Martin McGuinness said: "The success of the Digital Summit signalled the potential of what can be achieved through the sharing of information, ideas and genuine collaboration.
"Momentum aims to create 20,000 jobs in the local IT sector over the next five years.
"I fully support this ambition and I am confident, with the blend of energy and expertise in the digital sector, government and education that we can achieve that target."