Coney brothers admit Tyrone dissident training camp charges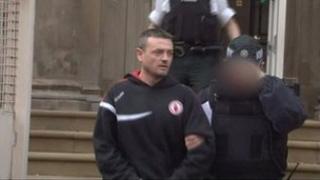 Two brothers from County Tyrone have admitted a number of terrorist charges over the discovery of a dissident republican training camp.
It was found at Fourmil Wood on the outskirts of Omagh in March 2012.
The brothers are Terrence Aiden Coney, 35, from Malabhui Road in Carrickmore and 36-year-old Gavin Joseph Coney from Gorticashel Road in Omagh.
The pair will be sentenced after the trial of a fellow accused. They were released on continuing bail.
They were rearraigned at Belfast Crown Court on Tuesday.
A prosecution lawyer said that the Crown was willing to accept the brothers' guilty pleas to the charges, while also asking that a series of other offences be allowed to 'remain on the books'.
Both pleaded guilty to possessing a firearm and ammunition, namely a .22 Walther rifle and .22 ammo, in suspicious circumstances on March 30, 2012 and attending a place used for terrorist training on the same date, namely Fourmil Wood on the Gorticashel Road near Omagh.
They also admitted helping others in preparing and setting up an improvised firing range and possessing articles for use in terrorism.
In Aiden Coney's case, these were four pairs of training shoes, in his brother's, four pairs of waterproof jackets and trousers, four balaclavas, four pairs of training shoes and two pairs of gloves.
Last week a County Antrim man, Sean Kelly, 48, from Duneane Crescent, in Toombridge, also pleaded guilty to charges linked to the camp.
Their guilty pleas leave a fourth accused, 38-year-old Sharon Rafferty from Pomeroy, who is due to stand trial before the non-jury Diplock court later this week.
Belfast Recorder, Judge David McFarland said he would pass sentence in the case "when the question of Mrs Rafferty's innocence or guilt is determined".