Francis McPeake trial: Jury sent home for day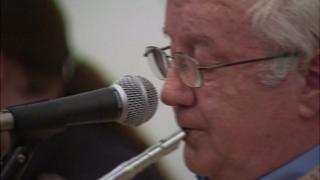 The jury in the trial of Francis McPeake, who is charged with 12 counts of child sex abuse, has been sent home for the day to continue its deliberations on Wednesday.
The 72-year-old, formerly of Eliza Street Close, Belfast, is accused of abusing a 15-year-old girl between 2009 and 2010.
The well known Irish traditional musician denies all the charges.
Closing arguments were made by the prosecution and defence on Monday.
The trial at Belfast Crown Court started on 28 May.