Visteon: Former workers accept £28m compensation deal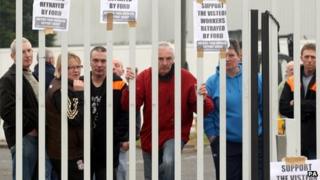 Former workers at the Visteon car parts firm whose pension values fell when it went into administration have accepted a compensation deal estimated at £28m.
The deal was reached following negotiations between the trade union Unite and Ford, who once owned Visteon.
The BBC understands the deal will benefit 1400 people.
Visteon was placed into administration in 2009. That put more than 1,000 people out of work at factories across the UK.
The workers were employed at sites in Belfast, Enfield in north London, Basildon, Essex, and Swansea.
Workers staged a successful sit-in protest to secure enhanced redundancy terms. But the value of some workers' pensions fell by about 40%.
With the support of the union, the workers took legal action against Ford, claiming it still had a responsibility to protect the pensions.
The case was due to heard later this year but an agreement was reached between Ford and the union in April and has now been accepted by the pensioners.
The union said the settlement offer received "overwhelming" support from all eligible ex- Visteon workers but would not comment on exact figures.