Belfast to Cork plane crash: Inquest into deaths of six people hears from survivors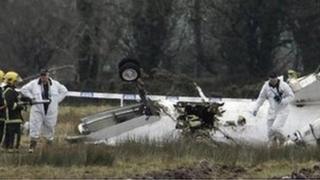 An inquest into the deaths of six people in a plane crash in Cork three years ago has opened in the Republic of Ireland.
The six who died were three Northern Ireland businessmen, an Englishman, a Spanish pilot and an English co-pilot.
They were killed when the plane being used by Manx2 crashed on approach to Cork airport after flying from Belfast.
The aircraft, with 12 people on board, crashed in fog after failing to land on its third attempt on 10 February 2011.
The six victims were Michael Evans, Brendan McAleese, Pat Cullinan, all from Northern Ireland, Richard Noble from Yorkshire, pilot Jordi Gola Lopez, from Spain and Andy Cantle, from the north east of England.
Six passengers survived the crash.
The inquest has been hearing from the survivors, as well as from members of the emergency services, who were first at the scene, and from air accident investigators.
Waterford man Donal Walsh, who was the first passenger to give evidence at the inquest, said that after the crash there was no-one screaming in the plane.
Heather Elliott, who also survived the crash, told the inquest she was very frightened, after she survived the crash, believing she would be burnt alive.
She added that she and another passenger, Lawrence Wilson, said a prayer.
Mr Wilson, from Larne, County Antrim, said he thought the plane was not slowing down enough to make a safe landing.
He also said that when he looked out of the window on landing, all he saw was grass and not runway.
Bad weather
Survivor Peter Cowley said he slept for most of the flight and only woke on the second attempt to land.
He recalled the pilot coming out into the cabin to explain that the weather was bad.
He said his memory after that was of texting his mother to say the plane would be diverted, and then waking up in hospital.
Another survivor, Mark Dickens, said the whole episode - from the plane leaving the thick cloud to seeing the ground - was only a matter of seconds.
He recalled screaming: "We are going to crash" and, afterwards, he said he smelled smoke or petrol.
He also recalled hearing a fellow passenger saying: "My name is Brendan, I can't breathe please help."
Mr Dickens said that he believed the plane landed at an angle.
He recalled someone from the emergency services shouting: "We're here, don't worry."
A report published earlier this year, suggested the probable cause of the crash was "loss of control" during an aborted landing.
The report by Ireland's Air Accident Investigation Unit (AAIU) also made 11 safety recommendations. It said it was the most challenging of the more than 500 investigations it had completed.
The inquest is expected to last two days.