B/E Aerospace to split into two independent companies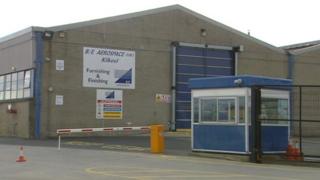 The US firm B/E Aerospace - which employs 800 people at its factory in Kilkeel - is to reorganise by splitting into two independent companies.
One company will focus on the design and manufacture of cabin interiors - that will include the Kilkeel operation, which makes aircraft seats.
The other will deal with supply chain distribution and logistics in aerospace and energy services industries.
The Florida-based company is valued at about $10bn (£5.6bn).
B/E Aerospace's chairman Amin Khoury said that "separating these highly successful businesses into two companies will allow each to benefit from increased management focus and operational flexibility".
The separation will take place by a distribution to existing shareholders who will end up holding shares in two independent and publicly traded companies.
In May, the company hired an investment bank to advise it on a possible sale or merger of the firm.
The highly-successful company said at that time that a spin-off or separation of selected businesses was another option.
Mr Khoury added that the company is continuing to review its strategy and that there could still be "change of control transactions".
That indicates that either of two new businesses could be still be sold.
B/E Aerospace has grown steadily over the past 20 years and 2013 marked its best year in business.
The Kilkeel factory manufactures a large proportion of the world's first class and business class aircraft seats.