Francis McPeake trial: Closing speeches at Belfast court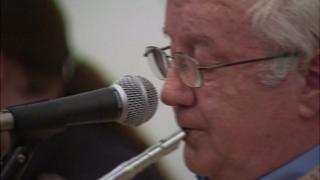 The defence and prosecution legal teams in the trial of Francis McPeake have been giving their closing speeches on Monday at Belfast Crown Court.
The 72-year-old traditional Irish musician faces 12 child sex abuse charges involving a 15-year-old schoolgirl.
The offences are alleged to have taken place five years ago.
Mr McPeake has always denied the charges.
A prosecution barrister, in his closing remarks, asked the jury of 10 women and two men if they thought Mr McPeake was having problems with his sexual capabilities during the time of the alleged abuse, as he was taking Viagra.
Last week, Mr McPeake said it would have been wrong to describe his sexual function as 'normal'.
The musician said the alleged victim had told him she had been abused by her own family.
The prosecution barrister said if that had been true, why did Mr McPeake not tell her parents.
He added the defendant, despite being told to keep away from the girl by her family, continued to see her.
A defence barrister said his client had not told any lies and that it was the alleged victim who had "spun a web of deceit".
He said on the only occasion she could place a timeframe on the first alleged sexual encounter with the pensioner she was exposed as a liar.
The trial heard how she alleged before they had sex in the McPeake School of Music they had "tea, toast and TV", but the barrister said that was impossible as a member of Power NI gave evidence on Monday to say the electricity had been disconnected during the time of the alleged incident.
He said she had told several lies throughout the trial and his client had only told the truth.
The jury also heard on Monday how the 'morning after pill', a contraceptive drug for women, which the prosecution wrongly referred to it as a male contraceptive, was on Mr McPeake's GP file.
Earlier the court heard evidence from doctors explaining there was no such thing as a male contraceptive pill and that the drug had been written on Mr Peake's file as a clerical error.