Dunloy farm death: Robert Christie funeral held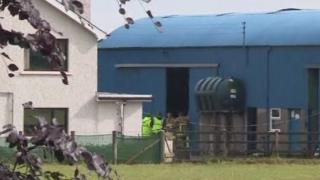 The funeral has taken place for Robert Christie, the eight-year-old boy killed in a farm accident in County Antrim on Saturday.
Robert was overcome by slurry gases near Dunloy on Saturday afternoon.
His 52-year-old father, Bertie, remains critically ill in hospital. The pair were helping out on the farm on Ballynaloob Road, near their own farm.
The funeral was held at Ballyweaney Presbyterian Church near Cloughmills.
On Sunday, Gerry Black, the principal of Knockahollett Primary School, paid tribute to Robert.
"A heavy grief has come over the school and Robert will be sorely missed by the whole school community," Mr Black said.
"He was in Primary 4. He was really open and full of enthusiasm. He was gentle and very popular.
"He had just such an open personality, such a bubbly wee character, interested in absolutely everything that he did," Mr Black said.
"He was a very, very gentle natured wee fella, made friends quite easily, shared his time with others and for that he was very popular.
"So his loss is going to have a huge impact on his friends, his classmates, the staff and the wider school family."
Robert's two sisters also attend the school.