On the Runs: Gerry Kelly defends not appearing at Westminster inquiry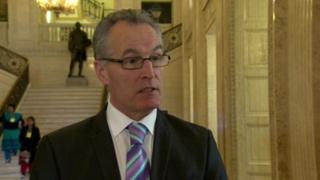 Gerry Kelly has defended Sinn Féin's decision to not give evidence in front of a Commons inquiry into On the Runs.
The Northern Ireland Affairs Committee is examining how more than 200 people were told they were not wanted for paramilitary crimes.
Sinn Féin have submitted written evidence but Mr Kelly said they will not appear in person.
The decision was criticised by politicians at Stormont and Laurence Robertson, the chair of the committee.
Mr Kelly said Sinn Féin had nothing to hide and that the select committee inquiry was not of "any great value".
Earlier, Mr Robertson said he would be writing to Mr Kelly to question his written evidence and that his refusal to appear was disappointing.
The Conservative MP was speaking during a special sitting of the committee in Belfast.
He said: "I am surprised and disappointed at Mr Kelly's refusal to come and give evidence in public on this important issue."
"One of the biggest problems with this scheme is the secrecy that has surrounded it until now, and it is important to open it up to public scrutiny, which is what we are trying to do.
"I will be writing to Mr Kelly asking some further questions about his and Sinn Féin's evidence, and contesting some of his assertions."
Ann Travers, whose sister was killed by the IRA, said she was disappointed that Sinn Féin would not give evidence in person.
She told MPs at the select committee hearing that when she heard about the OTR letters story, it was as if her late sister did "not matter anymore".
She said she "did not trust Sinn Féin" and did not know who to trust. She said the inquiry must be open and transparent.
Two inquiries
The On the Runs letters scheme came to light in February when the trial of County Donegal man John Downey for the 1982 IRA Hyde Park bombing was halted because he had mistakenly received a letter telling him he was not wanted by police.
It emerged that more than 200 people were told they were no longer wanted for paramilitary crimes before the 1998 Good Friday Agreement.
There are currently two inquiries into the controversy, one ordered by PM David Cameron and overseen by Lady Justice Hallett, and the other by MPs in the Northern Ireland Affairs Committee.
Mr Kelly said Sinn Féin would engage with the Hallett Inquiry.
"We've already met with Lady Justice Hallett and that was the review set up to look at this issue.
"In terms of this select committee, the antecedents of it was set up by John Major, at a time when he was looking for unionist votes.
"It was set up as a sop to unionism and, frankly, since then they have not used the committee for any positive purpose.
"They haven't asked, for instance, for an inquiry into why the Pat Finucane inquiry never took place or why the Ballymurphy massacre wasn't investigated."
Mr Kelly added that parliamentary privilege meant the committee "can say anything they want and accuse anyone of anything".
He added: "I'm not going to go into a situation where people like Ian Paisley are going to use it for showboating and grandstanding."