Funeral of Sir John Gorman takes place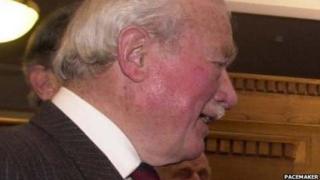 Mourners at the funeral of former Ulster Unionist Party politician and decorated World War II veteran Sir John Gorman have been told he was a "man of courage".
Requiem Mass was held in St Mary's Star of the Sea in Killyleagh, County Down.
Fr Eugene O'Neill said: "He was a man whose basic approach to life was not to ask, 'what can I get?' but rather 'what can I give?'".
Sir John, 91, died in a nursing home last week.
"And this spirit of service for the common good was the foundational principle of his military and police service, of each part of his long and varied career in public life, and the reason why his name is held in esteem by people across the spectrum of politics as a by-word for decency," said Fr O'Neill.
"Behind the public man, lay a loving father full of fun who managed that extraordinary feat of energy and organisation, to combine a demanding career with the successful raising of a large family."
Sir John had served as an officer in the Irish Guards in World War II and was awarded the British military cross and the French Croix de Guerre.
After the war he joined the RUC, rising to the rank of district inspector during his 17 years in the force.
Sir John was a captain in the Irish Guards from 1944-1946, a district inspector of the RUC until 1969 and chief of security at BOAC from 1960-1963.
He was also a regional manager for British Airways from 1969-1979 and president of the British Canadian Trade Association from 1972-1974.
Sir John was knighted in the Queen's Birthday honours list in 1998.