Eamon Gilmore in bid to revive Northern Ireland talks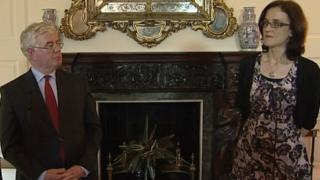 The Irish deputy prime minister is travelling to Northern Ireland on Monday in a bid to revive talks about flags, parades and the past.
Eamon Gilmore, who is also the minister for foreign affairs, is due to meet NI's five main political parties and Secretary of State Theresa Villiers.
During his trip he will also launch a new reconciliation fund strategy.
Talks on the three issues, chaired by the US diplomat Richard Haass, broke up without agreement last December.
Mr Gilmore currently leads the Irish Labour Party - the junior partner in Dublin's coalition government - but is due to step down next month.
He made several trips to Northern Ireland during the Haass talks in his position as Tánaiste (deputy prime minister) and minister for foreign affairs.
'Improving relations'
Last month, he hosted a meeting in Dublin with Ms Villiers, where the pair discussed efforts to resurrect talks aimed at resolving the issues which have been causing tension in the peace process.
Mr Gilmore also met Dr Haass, who said that his own formal role in Northern Ireland's peace negotiations had ended, but that his interest in the issues had not.
In a statement, the Irish Department of Foreign Affairs said in additional to his political meetings, "the Tánaiste will also meet northern business leaders and launch a new reconciliation fund strategy aimed at improving relations across communities within Northern Ireland and throughout the island".