Heavy rain: County Antrim homes flooded and properties damaged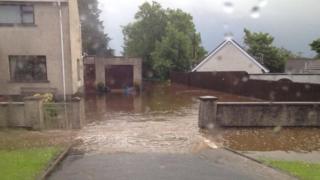 A number of homes have been flooded in County Antrim following heavy rain.
Properties between Ahoghill and Randalstown were affected on Sunday and roads in Ballymena were also flooded for a time as drains struggled to cope.
Alliance councillor Jayne Dunlop said homes in Toome Road, Ballymena, have flooded for the fifth time in six years and it had caused power cuts.
"Unfortunately the residents are used to it, the houses have been ruined on several occasions," she said.
"They have their own sandbags, so they very quickly got the sandbags out and were able to take measures, but they were all out of their houses.
"Many of them had lost electricity because of the water fusing the electricity and they are just very fed up with it."
Ms Dunlop, who lives in the Toome Road area, said about a dozen houses were flooded nearby and residents from 30 additional homes were "very concerned" that the floods would also reach their properties.
"It rained for a period of about an hour and it was extremely heavy with hail," she told BBC Radio Ulster.
"The manhole covers in my area were just bursting with water and the water was going down the main road in rivers."
Ms Dunlop said the affected residents were able to return to their homes on Sunday, but only after the Fire and Rescue Service arrived to pump the flood water away.
"It's very difficult, because we have met as a council with all the agencies and we have been reassured that this won't happen again and here we are, a fifth time in six years I think it is, that this has happened."
She added: "Six years ago I think it was the worst, it cost them a small fortune to fix their homes. It has insurance implications and it's just very worrying for them.
"But as a councillor, I will be one of many councillors now who will contact Roads Service and see if we can get this fixed.
"It seems that the drainage system just couldn't cope with the volume of rain."
Ms Dunlop said that the houses on Toome Road were beside a river but said it was still "very unusual for it to flood this amount".