Dunloy farm death: What is slurry and why is it so dangerous?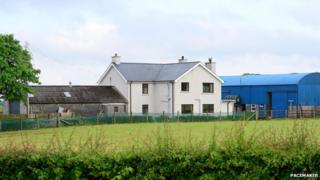 The death of an eight-year old boy who became overcome by slurry fumes at a County Antrim farm has once again highlighted how dangerous working on farms can be.
Robert Christie had been helping his 52-year-old father, also called Robert, to mix slurry on a farm near Dunloy when they both fell sick.
Mr Christie remains critically ill in hospital.
What is slurry?
A mixture of manure and water, it is used by farmers as a natural fertiliser for their crops.
Waste material from animals is collected underneath barns during the winter when cattle are kept indoors, to be spread during the warmer months.
First it has to be broken up and mixed, normally in a tank, so it can be spread on the land.
It is at this mixing stage that the odourless and invisible gases are produced that can kill within seconds.
Why is it so dangerous?
There is no such thing as a safe slurry tank, according to Northern Ireland's Health and Safety Executive.
Gases are produced by bacteria during the decomposition of slurry, and these can kill people and animals almost instantly.
Heavier than air, the gas settles in a cloud over the top of the slurry during mixing. Bending down into the gas cloud even briefly can cause unconsciousness.
"It's really a tank for holding all the waste products from animals produced during the winter time," says Barclay Bell of the Ulster Farmers Union.
"It stays in these tanks maybe for a number of months and a lethal combination of gases build up, including methane, carbon dioxide, ammonia, and worst of all, probably, hydrogen sulphide."
Health and Safety Executive slurry advice
Why is hydrogen sulphide the biggest risk factor?
Hydrogen sulphide is the rotten egg stink-bomb smell.
However, the warning signs are not immediately obvious as a high concentration knocks out your sense of smell.
It causes breathing difficulties, then disorientation. After only a few breaths, it can displace air from the lungs and affect your nervous system.
As soon as the slurry is mixed, the gas is released very quickly.
Lethal risks of working with slurry
What safety precautions can be taken?
Wearing a facemask will not help, according to the Health and Safety Executive.
Anyone entering a slurry tank must wear breathing apparatus with its own air supply, it says.
If possible, slurry should be mixed on a windy day so that fumes can be more easily dispersed in the air.
Doors and windows should be kept open and tank openings should be properly covered. The advice is that people should stay out of any building while slurry mixers are running for as long as possible.
The use of meters to monitor gas levels are recommended only as an extra precaution, but the Health and Safety Executive says these are no substitute for proper safe working methods.
Is this a long-standing problem in rural life?
A common theme in the reaction by Northern Ireland politicians was how the fatal accident in Dunloy highlighted the continual dangers faced by farmers.
Agriculture is an important part of the local economy, and it has brought a high cost as well in terms of human life.
The incident on Saturday is the latest in a long line of fatal accidents involving slurry tanks on Northern Ireland's farms.
The most high profile one happened in September 2012, when Ulster rugby player Nevin Spence, his father Noel and brother Graham died after they were overcome by fumes on their family farm.
The inquest into their deaths was told it was the worst farming tragedy in Northern Ireland for 20 years.
Coroner John Leckey said the case had raised awareness of the dangers of slurry, and asked the media to refer farmers to the HSENI website for slurry safety advice; in particular the 'safe system of work for mixing slurry' which has been distributed in Northern Ireland in 10,000 leaflets.