Peter Robinson in France for D-Day commemoration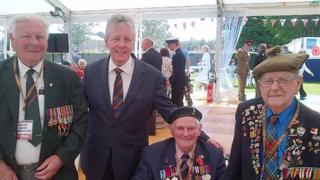 The first minister is in France to mark the anniversary of the D-Day landings.
It is 70 years since Allied forces invaded German-occupied France, an event that was a major turning point in the Second World War.
Peter Robinson said it was vital to remember the "bravery, courage and sacrifice" of those who gave their lives.
He attended D-Day services at Bayeux Cathedral and Bayeux Cemetery and met veterans of the exercise.
Mr Robinson said: "I am deeply honoured to be here today to pay tribute to the fallen and surviving veterans at these very poignant ceremonies.
"We must never forget the bravery, courage and sacrifice of those thousands of soldiers who fought and for the many who ultimately gave their lives for all of us.
"It is right that those veterans are central to today's commemorations.
"Northern Ireland provided a staging platform for allied forces prior to the D-Day landings.
"We are all eternally grateful to the men and women of Northern Ireland who played their part in one of the most significant engagements in military history."