Francis McPeake accused in court of 'putting on a performance'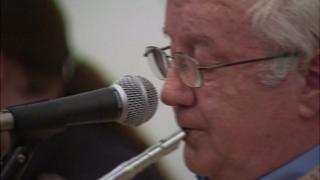 A traditional Irish musician whose family has played to audiences around the world has been accused of "putting on a performance" in the witness box.
Francis McPeake, 72, was giving evidence on his own behalf at Belfast Crown Court on Friday.
He denies 12 charges of child sex abuse involving a 15-year old schoolgirl.
The musician, formerly of Eliza Street Close, Belfast, was questioned about the nature of his relationship with the teenager.
She claimed they were in a sexual relationship from June 2009 to May 2010, while Mr McPeake maintained he knew her through music.
He said that he talked and listened to her when she was having problems at home and at school.
A lawyer questioned Mr McPeake about his sexual capabilities after he received treatment for prostate cancer in 2004.
Initially, under cross-examination by a Crown prosecutor, he had told the court: "Nothing works".
However the girl involved, who is now 20, said Mr McPeake's sexual function was normal.
He replied: "That's a lie."
Mr McPeake said that after the cancer treatment, his sex life and libido totally changed but he started taking medication, including Viagra, to enable him and his wife to make love.
When asked by a Crown lawyer to explain why in September 2009 his sexual function was medically described as "normal", he replied that this was wrong.
Despite what the girl said, Mr McPeake said he had "never had any sexual contact" with her "at any time".
Mr McPeake was questioned at length about his relationship with the girl and about various incidents including a trip to Bangor and a confrontation that took place between him and her family.
The musician told the jury that the girl told him she was sexually active from the age of about eight, that various members of her family had abused her and that she had expressed suicidal tendencies.
When asked by the Crown barrister why he never told anyone else what she had told him, Mr McPeake replied: "She told me that if I went to her mother, social services or anybody she would commit suicide."
McPeake claimed that he raised concerns about the girl to her mother, during a confrontation that took place between him and her family in February 2010.
The family was concerned about the amount of time she was spending with him. He said he spoke to her mother and told her that her daughter "needed professional help and go to the police. That is the gospel truth."
During this family meeting, Mr McPeake was told that the girl would be stopping all music lessons and was not allowed to see him again. But despite this, he admitted there was still contact, claiming she initiated it.
Mr McPeake told the jury "I was in fear for my life" but said: "I knew my conscience was clear, that I had done nothing wrong."
As Mr McPeake again denied and refuted the sexual allegations put to him, the Crown lawyer said: "You are just lying about your account. This is just a performance you are putting on."
He replied: "I am not lying."
The trial continues.