Queen's University to tackle antibiotic-resistant bacteria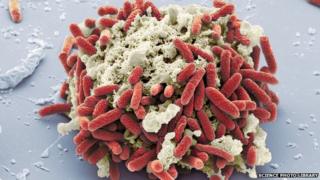 Scientists at Queen's University in Belfast are to lead an international research project to tackle antibiotic-resistant infections.
The project, known as INBIONET, will cost 4m euros and is funded by the European Commission.
It will focus on respiratory infections.
Researchers from 10 partner organisations across Europe will be involved.
Prof José Bengoechea, from the university's centre for infection and immunity, said: "Infectious diseases are on the increase worldwide and represent a major threat to global public health.
"An increase in world travel, climate change and the continuous transfer of viruses to humans from other organisms have all contributed to the growth and spread of infections, and the growing number of so-called 'superbugs', which are largely resistant to antibiotics.
"Our international team of scientists aim to identify the 'Achilles heels' of the body's defences - the particular weaknesses that bacteria, viruses and parasites manipulate for their own benefit.
"By identifying these vulnerable pathways, we will be in a better position to develop new therapies to block the offending microbes and stop the infection in its tracks."
He said he hoped for new treatments to be available as a result of the research within 10 or 15 years.
The INBIONET project will train 15 scientists from around Europe, including Germany, Switzerland, Austria, France, Ireland and Spain.