'Cover-up' accusations at Policing Board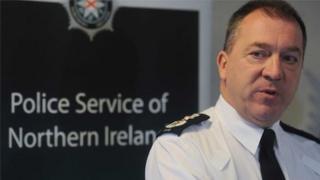 Policing Board members have accused senior officers of the PSNI of a 'cover-up' over information about past crimes.
Some board members said trust in the police was being compromised.
Matt Baggott, the outgoing chief constable, rejected the accusation.
The interim deputy chief constable Alastair Finlay said police wanted to provide the requested information, but legal advice prevented it.
The discussion prompted heated exchanges in the last Policing Board meeting before chief constable Matt Baggott retires.
He is facing legal action from Police Ombudsman Michael Maguire, who wants to obtain sensitive intelligence material relating to about 60 murders and other incidents where there are allegations of criminal behaviour or misconduct by officers.
Gerry Kelly of Sinn Féin said it seemed the police did not trust the Police Ombudsman with information relating to Troubles deaths.
Mr Finlay said: "It's not about trust.
"It's about the construct of the legislation and how we get the assurances in terms of the chief constable, in terms of this body, that we are not acting outwith the legislation."
Independent member Gerry O'Hara said: "The complexity of the arguments that you're making lost me, and out there they're lost, and what this looks like is a cover-up."
Mr Baggott outlined the achievements during his time in charge and added that a new way had to be found to deal with the past, an issue he described as toxic.
He said: "I'm a great believer, as my colleagues are, in both justice and truth. But dealing with the past is both debilitating and toxic to confidence in today's police service.
"It is time to deal with the past in a different way, which does not ignore it, but moves it to one side and puts leadership, investigation and resolution in different, independent hands."