Chief constable Matt Baggott to retire at end of June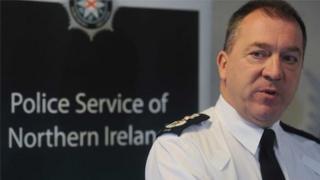 Chief Constable Matt Baggott has announced that he will step down at the end of this month.
He was due to retire at the end of August, but his departure has now been brought forward.
Mr Baggott announced in January that he would retire at the end of August after five years as chief constable.
But that plan has now changed. He informed the Policing Board on Thursday that he would step down on 29 June.
He will be replaced by George Hamilton, who was selected as his successor last week.
Policing Board chair Anne Connolly said Mr Baggott had been "committed to the delivery of a personal, professional and protective policing service for all in our community".
"There have been many challenges for policing in Northern Ireland in that time, but there has also been continued progress in the work of the officers and staff of the PSNI and the service provided to the community," she said.
During his time as chief constable, Mr Baggott secured from the Treasury a quarter of billion pounds of additional security funding.
He oversaw a number of huge policing operations for major events, including the G8 summit in County Fermanagh, the Giro d'Italia cycle race, the World Police and Fire Games and Londonderry's year as UK City of Culture.
While confidence in policing has risen during his time in office, Mr Baggott has been heavily criticised by unionist and nationalist politicians on a range of issues.
Legal action
Earlier this week, the Police Ombudsman announced that he was taking the chief constable to court to challenge his refusal to give sensitive material to investigators probing allegations of serious criminal behaviour and misconduct by police officers.
Senior officers faced questions on that issue at the Policing Board meeting.
Police Ombudsman Michael Maguire has said he is considering legal action to obtain sensitive intelligence material.
It relates to about 60 murders and other incidents where there are allegations of criminal behaviour or misconduct by officers.
The legal action by the police ombudsman is unprecedented.
The police have said they believe they have responded appropriately to each request for information.
'Complicated'
Justice Minister David Ford has said he was hopeful the dispute would be resolved before it went to court.
Mr Maguire said he had no option but to take legal action because he had received more than 100 refusals for information.
He said the material was needed for his investigators to do their jobs.
Mr Maguire claimed the chief constable was making it impossible to investigate allegations of serious criminal activity and misconduct.
The PSNI said it was seeking to agree a solution with the ombudsman about what it called "complicated and, sometimes, competing legal issues".
When news of the legal action broke, the Policing Board said in a statement: "Police cooperation and the provision of information to the institutions with legislative responsibility for delivering independent oversight and accountability of the PSNI is critical.
"The application for leave for judicial review by the Police Ombudsman is very significant and a matter of great concern."