Belvoir Park hospital site sold to private developer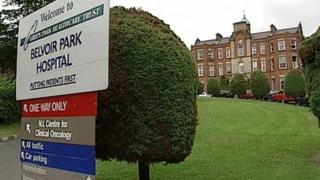 The site of the former Belvoir Park Hospital in south Belfast has been sold to a private developer.
The 62-acre site went on the market last April, with about 23 acres of land zoned for housing, sale documents said.
The selling agents have confirmed the site has been sold but have declined to give further details. The Belfast Trust has not yet commented.
Belvoir Park closed in March 2006 following the opening of a new cancer centre at Belfast City Hospital.
A number of large hospital blocks and buildings remain on the Newtownbreda site and several of them are listed.
Outline planning permission has been granted for 310 residential units on the site, with full planning permission for 110 houses.
Stuart Draffin, of BTW Shiells, said it had been "encouraged by the strong interest in the site" which he said provided further proof that confidence is returning to the property market.
Belvoir Park Hospital which opened in 1906, was originally known as Purdysburn Fever Hospital and later Montgomery House, before being renamed Belvoir Park Hospital in the 1960s.
It was the main regional centre for oncology offering radiotherapy and chemotherapy, until cancer treatments were transferred to Belfast City Hospital.