Nigel McGothigan admits manslaughter of Kevin O'Neill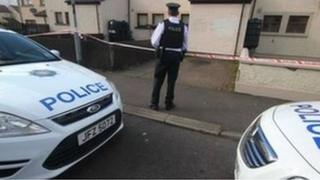 A 29-year old man has admitted killing another man at a house in County Antrim.
Kevin O'Neill, 25, died following a knife attack at a house in the Stroanshesk Park area of Ballycastle on 21 April, 2013.
Nigel Thomas Martin McGothigan, had pleaded not guilty to murdering Mr O'Neill in March, but admitted his manslaughter when he was re-arraigned on the same charge on Wednesday.
He apologised to the victim's family.
A lawyer for McGothigan, formerly from Broombeg in Ballycastle, but whose address was given as HMP Maghaberry, told Antrim Crown Court, sitting in Belfast, on Wednesday, that his client had instructed him "in ease of" Mr O'Neill's family, to say he was "terribly remorseful and sorry for their tragic loss".
When the guilty charge was entered, Mr Justice Weir asked the prosecution lawyer for the Crown's position.
The lawyer replied: "There has been careful consideration of all the evidence in this case, including medical evidence forwarded on behalf of the defendant, and in these circumstances the plea is accepted."
Mr Justice Weir ordered the preparation of pre-sentence reports, and suggested that due to McGothigan's "long history of educational difficulties", further reports into his background may be beneficial.
McGothigan's lawyer told the court his client was illiterate and left school at the age of 13.
The prosecution lawyer said the loss of Mr O'Neill was a "terrible tragedy for his parents and siblings", telling the court the family was "very measured and restrained" and have dealt with the circumstances "in the most distinguished manner."
Mr Justice Weir said the plea and sentence would be heard in September before remanding McGothigan back into custody.