World Cup: McGuinness in dilemma - England or Orangemen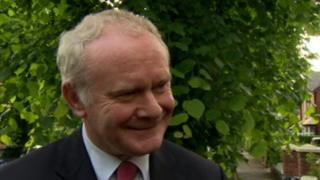 Deputy First Minister Martin McGuinness has admitted to facing a dilemma over this month's World Cup finals.
The Sinn Fein MLA said he would like to see the "Orange men from Holland win," but he drew England in his £5 office sweep at Stormont.
Asked which team he intended supporting, he said he was "gobsmacked" at picking England from the hat.
"I've tweeted that out to the public and it has gone viral, all over the place," he said.
'Monetary gain'
"I'm absolutely gobsmacked at the fact that I drew out England in the office draw at the OFMDFM.
"People are asking if I'm going to support England. Of course, they're asking that in the context of monetary gain.
"But I'm a purist when it comes to sport. I've always thought it would be great if the Dutch could win the World Cup, not just because they wear orange, but because they have some very, very fantastic footballers.
"So, if Brazil doesn't win it, I think I will pitch my hat... on the orange men from Holland."