On the Runs: Dave Cox says John Downey 'got away with murder'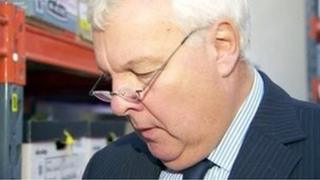 The former head of the Historical Enquiries Team (HET) has said he believes the Hyde Park bomb suspect John Downey got away with murder.
Dave Cox was giving evidence to a Westminster inquiry into On the Runs.
The scheme came to light when Mr Downey's trial for the 1982 IRA Hyde Park bombing was halted.
He was one of more than 200 republicans who received letters saying they were no longer wanted for crimes committed before the Good Friday Agreement.
Mr Downey denied killing four soldiers in the bombing.
The case collapsed because he was mistakenly told in a letter in 2007 that he was no longer a wanted man, despite the fact that police in Northern Ireland knew he was still being sought by Scotland Yard.
Mr Cox was the former head of the HET and was in charge of a team of detectives set up to investigate unsolved killings in Northern Ireland.
He stepped down from the role last year.
Asked by the DUP MP Ian Paisley Junior if he believed Mr Downey had got away with murder, Mr Cox told the NI Select Affairs Committee: "I might ask him what lottery numbers he picked."
Mr Paisley then asked if that was a "yes", and Mr Cox replied "yes."
Earlier, the SDLP MP Mark Durkan told the committee that he had no problem with the government's scheme for dealing with OTRs, as long as it did not offer amnesty from prosecution.
Mr Durkan, who is the MP for Foyle, is a former leader of the nationalist SDLP and was deputy first minister from 2001 to 2002 in Stormont.
He said it was only "fair" and "proper" that people were able to find out if they were wanted for questioning, but said he did not support any scheme where the letters could be seen to provide indemnity or court immunity.
"We made it clear we had no problem with a scheme whereby anybody who was outside the jurisdiction who was worried as to whether or not they were in peril of arrest on their return could find out whether or not there was a live interest in them on the part of the police," he said.
Mr Durkan said he was "conscious" there were many people from Northern Ireland who "took themselves on the run, maybe unbeknownst to the police" because of supergrass cases at the time or other issues and felt they were at risk.
"A scheme that was simply about confirming whether or not there was an interest, we didn't have a problem with, but not something that tilted into potentially giving people letters of indemnity or some sort of certification of amnesty or court immunity," he added.
A separate government inquiry into OTRs is being headed by Lady Justice Hallett.
It was ordered by Prime Minister David Cameron and is due to report in the summer.