Queen and Duke of Edinburgh to visit Northern Ireland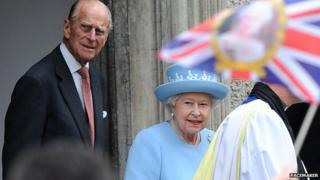 The Queen and the Duke of Edinburgh are to visit Northern Ireland later this month.
The Royal couple will attend a series of public engagements from 23 to 25 June.
No other details have been announced so far.
Northern Ireland Secretary Theresa Villiers said she was "absolutely delighted".
"This will be a wonderful opportunity to show Her Majesty and His Royal Highness some of the best that Northern Ireland has to offer and demonstrate the work being done to bring different parts of the community together and build a more prosperous future," she said.
The Queen and Prince Philip last visited Northern Ireland in June 2012 as part of her Diamond Jubilee tour.