Stiff Kitten nightclub in Belfast closes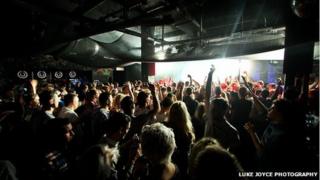 The well-known Belfast city centre nightclub, the Stiff Kitten, has closed.
It was operated by Shine Productions who said it was unable to reach agreement with the building's landlord about the venue's future.
The firm said the club needed a "substantial reinvestment".
It added that it had been "unable to get the reassurances" needed from the landlord in order to make such a commitment.
The club has been operating at Bank Square since 2005.
Shine said that it had always been a "challenging location", particularly in recent years with more of Belfast's night life moving to the Cathedral Quarter.
In a statement, Shine said: "Whilst it's very disappointing, we're already working away on some new projects which we'll have news on very soon.
"We would like to take this opportunity to thank all of the customers who have supported the venue over the years."
Shine owns a number of other venues in Belfast, as well as promoting a long-running club night at Queen's Students Union and the Belsonic Festival.
Acts who performed at the Stiff Kitten include Disclosure, 2ManyDJs and Carl Cox.