Sean Kelly admits six charges linked to terrorism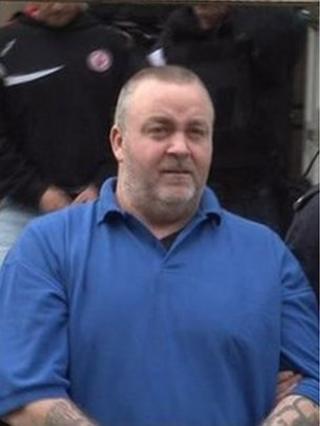 A man has pleaded guilty to charges linked to what police believe was a weapons training camp in County Tyrone.
Sean Kelly, 48, from Duneane Crescent, Toomebridge, admitted a number of charges, including possessing weapons, attending a place used for terrorist training and having articles likely to be of use to terrorists.
Kelly also admitted possessing the address of a prison governor.
Three other people also face charges connected to the alleged training camp.
At Belfast Crown Court on Wednesday, a lawyer for Kelly asked that her client be re-arraigned on five charges and arraigned on another charge, with Kelly pleading guilty to all six charges that were put to him.
The charges are:
Possessing a firearm and ammunition, namely a .22 Walther rifle and .22 ammunition in suspicious circumstances on 30 March 2012
Attending a place used for terrorist training on the same date, namely Formil Wood on the Gorticashel Road in Omagh
Attending a place used for terrorist training on 1 March 2012
Collecting information likely to be of use to terrorists on dates between 31 December 2010 and 10 January 2012, under the Terrorism Act 2000 - the court heard this charge related to details of the residence of a governor of the Northern Ireland Prison Service
Possessing articles for use in terrorism - two blank firing pistols - on 28 February 2012
The preparation of terrorist acts, namely weapons training at an improvised firing range in Fermanagh and South Tyrone on 30 March 2012
A Crown lawyer asked that an additional four charges that he faced be "left on the books".
Kelly was remanded into custody.
Two men and a woman who also face charges linked to the alleged weapons training camp on the outskirts of Omagh are due to stand trial at Belfast Crown Court next week.
All three deny the range of charges they face.
Belfast recorder Judge David McFarland said he would adjourn Kelly's plea and sentence "pending the determination of guilt of the other three defendants".
Although no details about the case were revealed during the hearing on Wednesday, a previous court hearing was told it was the prosecution's case that the alleged terrorist training camp at Greencastle was in advanced preparation for an attack by dissident republicans.