ONS survey suggests NI disposable incomes lowest in UK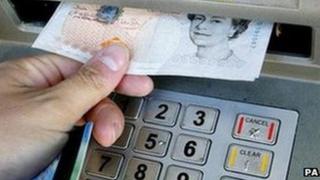 People in Northern Ireland typically have the lowest disposal incomes of any part of the UK, according to figures from the Office for National Statistics (ONS).
In Northern Ireland the figure was £13,902 compared to a UK average of £16,791.
London has, by far, the highest average disposable income at £21,446.
Disposable income increased in all UK regions between 2011 and 2012, but the weakest growth of 2.7% was in NI.
The north east of England had the strongest growth at 4%, followed by Wales at 3.8%.
The ONS figures, which cover 2012, measure gross disposable household income, an assessment of what the average person has available to save or spend.
Northern Ireland has had a deeper and longer lasting recession than the UK as a whole, related to its property crash.
Northern Ireland's disposable income gap with the rest of the UK narrowed during the boom years, but has steadily widened since 2007.
There are variations within Northern Ireland: outer Belfast showed an average disposable income of almost £15,000 while for the west and south region was £12,605.