Smoking warning after three house fire deaths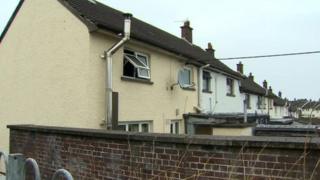 The Fire and Rescue Service has warned of the dangers of smoking in the home following three deaths in separate accidental house fires in recent days.
In at least two of the incidents, smoking materials may have contributed, according to the fire service.
An 80-year-old man died in hospital on Tuesday after being rescued from a fire in his north Belfast home last Friday.
On the same day, a 61-year-old man was found dead following a fire in his home in Rostrevor, County Down.
On Monday, a woman in her 70s died after a fire in Larne, County Antrim.
Assistant chief fire officer Dale Ashford urged people to be aware of the risks.
"Sadly these incidents, all involving people aged over 60, serve to highlight the tragic and potentially fatal consequences that smoking in the home can cause," he said.
'Lit cigarette'
He said fires caused by smoking materials can spread very rapidly through a house.
"I would remind the public to be extra careful if they are smoking or disposing of smoking materials in their home," he said.
"Make sure cigarettes are stubbed out properly before going to bed and be extra careful if you have been drinking alcohol or are feeling drowsy.
"Never ever smoke in bed or leave a lit cigarette, cigar or pipe unattended as they burn downwards and can easily overturn and set fire to something.
"Young children are always attracted to matches or lighters and these should also be kept out of reach."
He urged people to check with their older neighbours, and ensure they have a working smoke alarm, and check their home for fire safety.
Fire Crews attended 898 accidental house fires across Northern Ireland in the last 12 months.
Fifty-three of these were as a direct result of smoking materials, the fire service said.