Prostate cancer: Charity urges Northern Ireland men to act now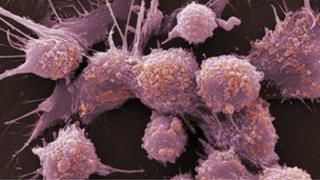 More than four out of five men in NI facing a higher than average risk of prostate cancer are not taking the right steps to protect themselves, new research suggests.
Prostate Cancer UK said thousands could miss out on being diagnosed early, when treatment is most effective.
Men at increased risk include those with a family history of the disease, men over 50 and black men.
The charity said more needed to be done to help improve the diagnostic process.
There is no national screening programme for prostate cancer. The charity said a man's chief defence against the disease was speaking to a health professional.
However, the charity said that 85% of men at increased risk in Northern Ireland admitted that even if they were aware of that risk, they would not go to their GP if they did not have any symptoms.
More than 200 men in Northern Ireland die from prostate cancer each year.