Belfast: Rare Stone Age Ballymaglaff site 'badly damaged'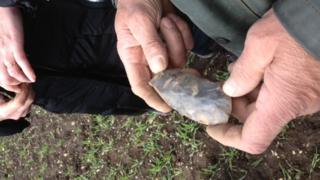 An investigation is under way into claims that a rare Stone Age site near Belfast has been badly damaged.
The Department of Environment (DoE) is working to establish if planning restrictions at the Ballymaglaff construction site in Dundonald were broken.
The NI Environment Agency (NIEA) is also inspecting the site amid concerns about the access road.
But site builders, Lagan Homes, said they complied fully with regulations.
"Lagan Homes complied fully with - and exceeded - the archaeological conditions attached to these works," the construction company said.
"The company is fully committed to safeguarding areas of archaeological interest and appointed an archaeological consultant - working under licence from NIEA Historical Monuments - to undertake trial evaluations at the site. These trials did not reveal any archaeological material.
"The nature of this work is highly technical and the company strongly refutes any suggestion that it did not comply with planning conditions."
Historian Peter Carr, who discovered the Ballymaglaff site in 1984, said it dated from the Early Mesolithic period, 8,800-9,800 years ago
"Although the site is on the Department of the Environment's sites and monuments record, it is unclear what protective archaeological measures were attached to the planning permission," he said.
"Some time before development commenced, archaeologists acting for the developers conducted what is described as a 'test evaluation'. Nothing was found. 'Nothing was found' then seems to have become 'There is nothing there to find', and road construction went ahead.
"The archaeological layer, which contained worked Early Mesolithic flints and possibly other material, was torn up and left in spoil heaps by the river. These have not been protected and soil from the heaps has subsequently been redistributed."
Mr Carr said that, nevertheless, it was still possible to salvage important material from the heaps.
In a statement, DoE planners said that the most recent planning permission was granted on 20 November 2013 for housing and an access road in Dundonald.
"When assessing the application, DoE planning consulted with the NIEA who recommended conditions requesting a written scheme and programme of archaeological work to be prepared by a qualified archaeologist for approval by the department. These conditions were placed on the planning approval," the DoE said.
"The applicant carried out a test evaluation of lands near the road. This was conducted under licence from NIEA (AE/13/178). No archaeological material was identified during this evaluation."
The DoE and the developer have scheduled a meeting for Wednesday to discuss the Ballymaglaff site.