Muslims 'hurt' by Robinson comments, says doctor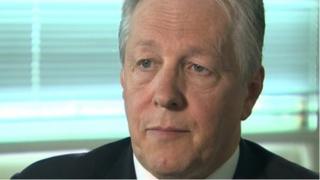 A Belfast hospital consultant says Muslim staff have been very hurt by the recent controversy over comments made by a pastor and the first minister.
It comes after Peter Robinson defended comments made by a pastor who described Islam as "heathen" and "satanic".
The DUP leader will visit the Belfast Islamic Centre later to meet local representatives of the community.
Dr Samina Dornan, a Muslim, said she agreed with Alliance MLA Anna Lo that Mr Robinson should publicly apologise.
"He is my leader too, so he needs to represent me as well," she said.
"Already severe damage has been done by a few people. We, as the Northern Ireland public, need to repair that," she added.
"Everybody wants to make it clear, nobody supports extremism.
"No-one wants extreme Islam. I don't even do religion, but I do respect people's faith. I work with all sorts of people. This is a beautiful country, with the most beautiful people I have ever met.
"I love this country. Let's not show the world the ugly face we don't even have."
Mr Robinson came under fire last week for defending Pastor James McConnell's remarks. The first minister told the Irish News he would not trust Muslims involved in violence or those devoted to Sharia law.
Misinterpreted
However, the DUP leader said he would "trust them to go to the shops" for him.
Mr Robinson later said his remarks had been misinterpreted, and met Muslim leaders in Belfast to apologise.
At Stormont on Tuesday, assembly members condemned the recent racial attacks and expressed their opposition to racism, discrimination and intolerance.
The assembly passed without a formal vote a motion calling for all parties to show leadership on the issue and urging the first and deputy first ministers to bring forward a racial equality strategy as a matter of urgency.
Junior Minister Jennifer McCann, Sinn Féin, said Martin McGuinness had already signed off on a draft strategy under the working title, "A Sense of Belonging", and she believed the document would be published soon.
The SDLP's Alban Maginness questioned why Mr Robinson did not attend the debate.
Mr Maginness claimed Mr Robinson was in "dereliction of his duty" by not clarifying his position.
A number of DUP assembly members made it clear that they unequivocally condemned all racist attacks.
However, DUP MLA George Robinson questioned whether the media had shown leadership.
The East Londonderry assembly member claimed some sections of the media could "cause division and increasing fear" with continuing coverage to suit "their agenda".
A Sinn Féin motion and an Alliance amendment were both passed without a formal vote.
Earlier on Tuesday, an Islamic leader who met Mr Robinson said he was 100% satisfied with his explanation about his remarks about Muslims.
Imam Ibrahim Noonan from the Galway mosque said he felt very reassured after meeting the first minister, whom he described as "genuine".
He said he thought Mr Robinson's remarks had been taken out of context, but was critical of Mr McConnell.
He called on him to apologise to the Muslim community.
Meanwhile, SDLP leader Alasdair McDonnell said he has written to the assembly's commissioner for standards, Douglas Bain, to lodge a formal complaint about Mr Robinson's comments.
He said he believed the comments breached the assembly's code of conduct.