Affordable housing contribution out for consultation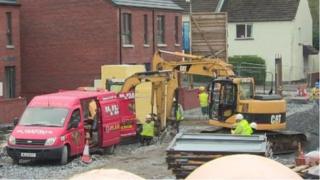 Private housing developers will be required to make contributions towards the building of social housing under proposals from the Department for Social Development (DSD).
It is proposed the 'affordable housing contribution' would apply to all developments of five homes or more.
The developer would also have to be able to make a profit of 15% before the contribution would apply.
Similar schemes operate in the rest of the UK and the Republic of Ireland.
The Irish government recently announced plans to reduce the amount of social housing required under its scheme.
The DSD proposals state that its preference is for social or affordable housing to be built on the same site as the main development, although it could also be built on a separate site nearby.
Additionally, developers could make a payment where it can be shown that it would not be feasible to provide affordable housing or where the money could be better used on other schemes.
DSD Minister Nelson McCausland said the provision of affordable and social homes through developer contributions would help the executive to deliver housing without the need to provide additional public funds.
He said the policy would also contribute to "balanced communities, promoting a mix of housing in terms of tenure, price and household composition".
One major housing developer told the BBC that the scheme would have to be "managed very carefully" to ensure it did not have a counterproductive impact.
They said that as an example it should only be applied to land that would be zoned for housing in the future, as it would impose an unforeseen cost on land that had already been bought for housing.
They added there was the risk that it could make developing housing less attractive in the areas where the need was greatest.
The Department of the Environment (DoE) is consulting on ways of collcting developers' contributions.
The departments will share consultation results.
Mark H Durkan, the Planning Minister, said there were 41,000 people on the Housing Executive waiting list as of March 2013,.
He said: "I am committed to playing my part in addressing this problem head on".
The consultations run until 26 August.